What are "specialty socks" and why are they more expensive?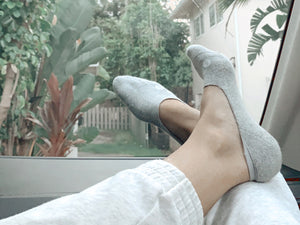 One question we're sometimes asked is why Skinnys cost what they do, when generic socks can be had for a few bucks a pair.
It really comes down to what it takes to produce Skinnys and the fact that they're manufactured in more limited quantities.
They're a little pricier, but you won't find this type of product anywhere else.
Cutting to the chase
Skinnys padded no-show socks are a niche almost-orthotic product with premium-by-necessity finishes
When we set out to begin researching what it would take to produce a sock to solve heel-fitting issues, we initially conceived of our solution as an orthotic product... a quasi-medical device that could resolve heel slippage and blistering for people with wider forefeet and narrower heels.
Orthotic products like heel grips, foot pads, innersoles, and even plantar fasciitis socks take hundreds (or thousands) of hours of research and work through repeated stages of CAD drawing, trial-and-error experimentation, prototyping, and testing.
And while we don't claim that Skinnys are quote-unquote "orthopedic", we followed in the same footsteps.
(See what we did there?)
Expensive materials and production
Where we landed was a custom 3x-padded variant on the no-show sock. In general, no-show socks cost more to produce (and, as you can see in stores, cost more to buy as well) because of the multiple features, materials, and detailing they require.
Pouring silicone for the heel grip is expensive, and we use a custom mold and twice as much silicone as any other no-show sock we've found, both to wrap the grip all the way around the heel and to provide even more padding where it's needed.
The thick-terry-loop padding in the heel-cup and sole is manufactured under a costlier process, and the addition of our spandex stay-put elastic band requires separate manufacture and attachment.
All-in-all, our materials and construction are premium at every step (ha!), and while this ensures you a blister-free comfortable walk, even in loafers or other slip-on shoes, it comes at a higher-dollar price.
A "specialty" padded sock for a specialty need
Additionally, because our target market is a bit of a niche—namely people who suffer heel blistering or slippage because the back of our feet are a bit narrower—we don't target the mass-market and don't produce the large volume of the major footwear-and-sock guys, even the premium players like Bombas and Stance that we respect so much.
We love our product because it solves our personal needs, but with a more targeted market and limited volume, our cost structure is a bit higher too.
In the months since we launched, we've loved hearing from customers that have told us how excited they've been to finally have a solution to their heel-fitting issues.
We'd be honored to have you as a customer as well.
Take a look at our starter pack (in both invisible liner-cut and performance sneaker-cut styles), try them out (risk-free with no-questions-asked refunds), and let us know how you like them!