Why do shoes slip at the heel?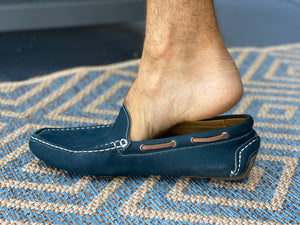 Shoe-shopping for some of us is a miserable experience.
It can be really deflating when, rather than picking between shoes we think look the best, we have to narrow our choices to the handful of shoes that, seemingly randomly, keep our feet in place without blistering or popping out.
While a lot of people experience heel slipping with brand new shoes, about a quarter of the population actually have a foot shape condition known as narrow heels that can make it chronically difficult to fit or stay in shoes.
So, in light of that, let's do a little Q&A before we share our personal hack to solve the heel popping problem:
A Q&A about heel slippage in shoes ...
What are narrow heels?
Narrow heels come in two varieties: 
Either they're attached to feet that are more narrow the entire way (from toe to heel),
Or they're simply slimmer compared to a person's forefoot or toebox (which might actually be wider than average!). Let's call this a big "forefoot-to-heel ratio".
Heels are narrow, then, when they're either (a) slimmer than than the middle-50% of the population, or (b) else are on feet with a sizable forefoot-to-heel ratio.
Why do I have narrow heels? What's wrong with me!
Nothing is wrong with you! Just like people are born with higher or lower arches, we're naturally endowed with different foot widths and ratios.
If nothing is wrong with me, why does my foot slip out of lots of shoes?
Ah, the real question. Simply put, most shoe manufacturers design their shoes for "average" heels, even though around 25% of us would benefit from a slimmer-designed heel cup.
For those of us in the narrower group, off-the-shelf shoes often have heel cups that just have too much space—too much air—leaving a gap between the shoe and our heel. For non-padded shoes (dress shoes, loafers, boat shoes, etc.), there's even less room for error. And so our shoes slip off our feet, sometimes scraping blisters into the heel, ankle, or achilles tendon. Grr.
What about actually narrow shoes?
Narrow shoes definitely help! Unfortunately they're hard to find, and the reason for this is "unit economics," and it doesn't look likely to change. While the population of people with narrow heels is sizable (especially among women according to an NIH study), shoe manufacturers make more money focusing on the largest chunk of people in the middle with "average" heel widths, without having to produce, ship, or stock narrow versions.
Narrow shoe widths used to be far more available, but these days they're often limited to only the most expensive brands... unless you opt for custom shoes (at ten times the cost!)
Solutions: How do I prevent my heels from slipping out of my shoes?
Podiatrists and specialty shoe stores make recommendations every week to prevent heels from popping out of shoes:
Heel grips
Tongue pads
Orthotic insoles
Here are details on ways to fix heel slippage in flats, dress shoes, loafers, slip-ons, sneakers, and more:
Heel grips. These are adhesive patches that affix to the back of your shoe. They're affordable (though you have to purchase them for every pair you own). They work very well for some feet and some shoes, though they often don't grip at the very top edge of the shoe opening, so slipping and blistering can still occur. They also tend to push your foot forward in the shoe, cramming toes into the front.


Tongue pads. These are also adhesive patches, but they affix under the "tongue" of shoes, the top portion of your foot closest to your ankle. They seek to tighten up the top of your shoe and push your foot back into the heel cup. For minor narrow-heel issues and for heavily padded shoes (like some sneakers), these can work very well. But for unpadded shoes or for the narrowest of heels, the too-wide heel cup just isn't solvable even by pushing the foot back.


Orthotic insoles. Different varieties of insoles are available, both custom and off-the shelf, at various prices. In general, these can tremendously help certain foot conditions, but they also tend to raise your foot in your shoe, causing you to slip out of your shoe even more frequently!



Skinnys

 padded-heel invisible liner socks. A new option we're excited about (maybe because we created them to solve this specific issue!) is our Skinnys. Rather than hacking your shoes to fit your foot, Skinnys liner socks work to make your foot better match the geometry of an "average" foot to fit in virtually any shoe.
More about Skinnys
Shear on top, extra-padded (with thick terry) in the heel cups, and with a custom silicone gel-grip engineered all around the sides of the heel cup (twice as much as conventional non-specialty no-show socks), Skinnys liners are guaranteed to keep your shoe from slipping off your heel, or get a no-questions-asked refund.
You can wear them two ways:
Standalone with slip-ons like Vans or loafers to appear "sockless" (like regular no-show socks, but better)
Underlayer liners below dress socks to pad up your heels even more.
Reduce the "air gap" and move friction away from your skin
The wraparound gel grip on Skinnys is unlike grips on typical no-show socks. Instead of a thin coating on the back of the heel, the Skinnys gel grip is custom-engineered with twice as much silicone to wrap around the sides, both filling up the dreaded "air gap" on the sides of loose shoes, and also better adhering the sock to your skin.
By doing this, they prevent your feet from popping out of shoes.
Designed to work two ways...
When worn as an invisible liner (when you'd like to appear sock-free), the Skinnys wraparound silicone better adheres to your skin, so the sock doesn't slide against you, and instead the friction edge becomes the border between the extra-thick liner sock fabric and the leather or fabric of the shoe.
When worn as an underlayer below dress socks, the friction point is moved away from your skin even more, as both the outer sock and the Skinnys liner will rub before your skin will.
Either way, your shoes will better stay on your feet and heels.
Time to try Skinnys?
We'd love to have you try a starter pack of Skinnys (in both invisible liner-cut and performance sneaker-cut styles)! We think they'll work for you, because they worked for us. And because 25% of our business is repeat customers, we're pretty sure they're becoming the best new tool in the arsenal to tighten people's step.
If you have any questions, please contact us. We're quick to respond, and we love talking to customers!