Shoes come in standard sizes, but feet don't
Footwear that leaves an "air gap" around your heels can rub, pop off, and cause blisters.
That's why we developed extra-thick Skinnys with GripWrap™.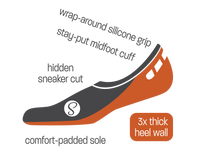 Skinnys Padded No-Shows
Our Secret: 3x-padded heel counters with gel GripWraps™ + either a cuffed or spandex ankle band.
(Kiss those blisters goodbye.)
Of course, we started with premium hosiery thread, wove it into an extra-low-cut contour, and sewed in special stay-on features to keep these extra thick no-show socks secure and tight.
In short, Skinnys are custom-designed to both stay on your heel and keep your heel in your shoe.
Two Styles of Skinnys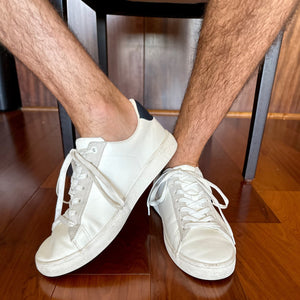 Skinnys PERFORMANCE
Our most padded + secure no-show socks, with a "hidden sneaker cut" and 3x-padded heel counters.
For athletic low-tops, laced Vans, and mens dress shoes.
Try Skinnys Performance
Skinnys INVISIBLES
Our lowest-cut no-show socks feature a "secret liner cut" and 2x-padded heel counters.
For loafers, Sperrys, slip-on Vans, and ladies flats.
Try Skinnys Invisibles
3x-Thick Heels + GripWrap™ = No Blisters
Blister-free heels
Specially constructed with a triple-thick heel counter to ensure a snug fit, right where it matters. If you've given up on slip-ons or live with daily blisters, these are for you.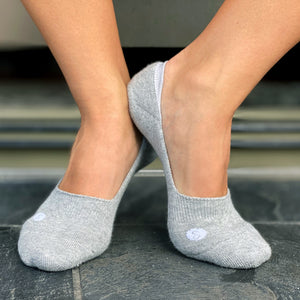 Super-invisible contour
We took the lowest-cut pair of no-show socks we could find... and cut ours even lower. Now you can even wear loafers with socks and leave the discomfort behind.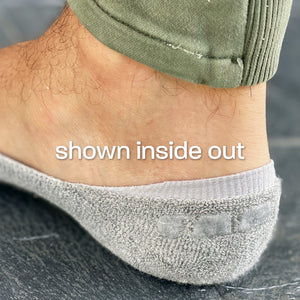 Spandex + wraparound GripWrap™
Sockmakers are stingy on the grips. GripWraps™ contain twice as much silicone and contour it all the way around your heel wall, so your sock (and foot) stays firmly in your shoe.
My daughter had terrible heel blisters from basic training and these socks were a Godsend! She was able to continue with her training with her running shoes, boots and low quarters. She wore them under her issued socks and said they were amazing. They helped the blisters heal and allowed her to keep on training. Definite game changer! Highly recommend!! Awesome customer service too!

Lori (Delaware)
As a flight attendant that loves to explore, I walk a lot! Skinnys can be worn under a thinner full-length pant/dress socks to prevent blisters; alone with my trail shoes for just the right amount of cushion on long hikes; and with my ankle boots for a no-show sock that truly does NOT slip.

Diane (California)
Really, they're the best socks I've ever worn. When we were developing them, we first knew which version was "the one" because they stayed in place for a night dancing with no slippage or rubbing, I was pain-free, and I honestly forgot they were there. No other sock, orthotic, or heel pad ever worked this well for my narrow feet.

Joey Katzen (Skinnys founder)
Ready for the best fit of your life?